About ASI
Join ASI
ASI is a multi-stakeholder organisation with a diverse global membership. We welcome all companies and stakeholders in the aluminium supply chain to join our membership and help drive sustainability through a comprehensive certification program and broader capacity building.
---
The ASI Membership Information and Application contains detailed information about becoming an ASI Member as well as the application form.
DOWNLOAD
Why Join ASI?
By joining ASI, you demonstrate leadership on key sustainability issues within the aluminium supply chain. You also become part of the global effort to drive positive change through collective action.
查看具体中文页面 / See this information in Chinese.
Depending on your goals, member benefits can include:
Improve your performance and scale up progress on key environmental, social and governance issues
Identify and manage current and emerging supply chain risks
Align practices with relevant regulatory, customer or stakeholder requirements
Make credible claims which are backed by an independent assurance mechanism
Access ASI's learning program, educationAl, and expertise for implementation support
Strengthen internal capacity as part of continual improvement efforts
Free or discounted member registration for ASI events
Member newsletter subscription
Participate in multi-stakeholder dialogues on responsible production and sourcing
Network with a community that is passionate about addressing sustainability issues
Participate in ASI governance, including Working Groups (All members), Committees and/or the ASI Board (Full members)
Access ASI's member logo, member listing and an exclusive profile page on ASI's website
Your membership supports ASI's broader objectives to:
Enhance transparency and due diligence in supply chains
Identify and better manage current and emerging supply chain risks
Share best practices and improvement opportunities across sectors
Contribute to collaborations, partnerships and harmonisation efforts
Create more impact on environmental and social issues by working collectively
How to join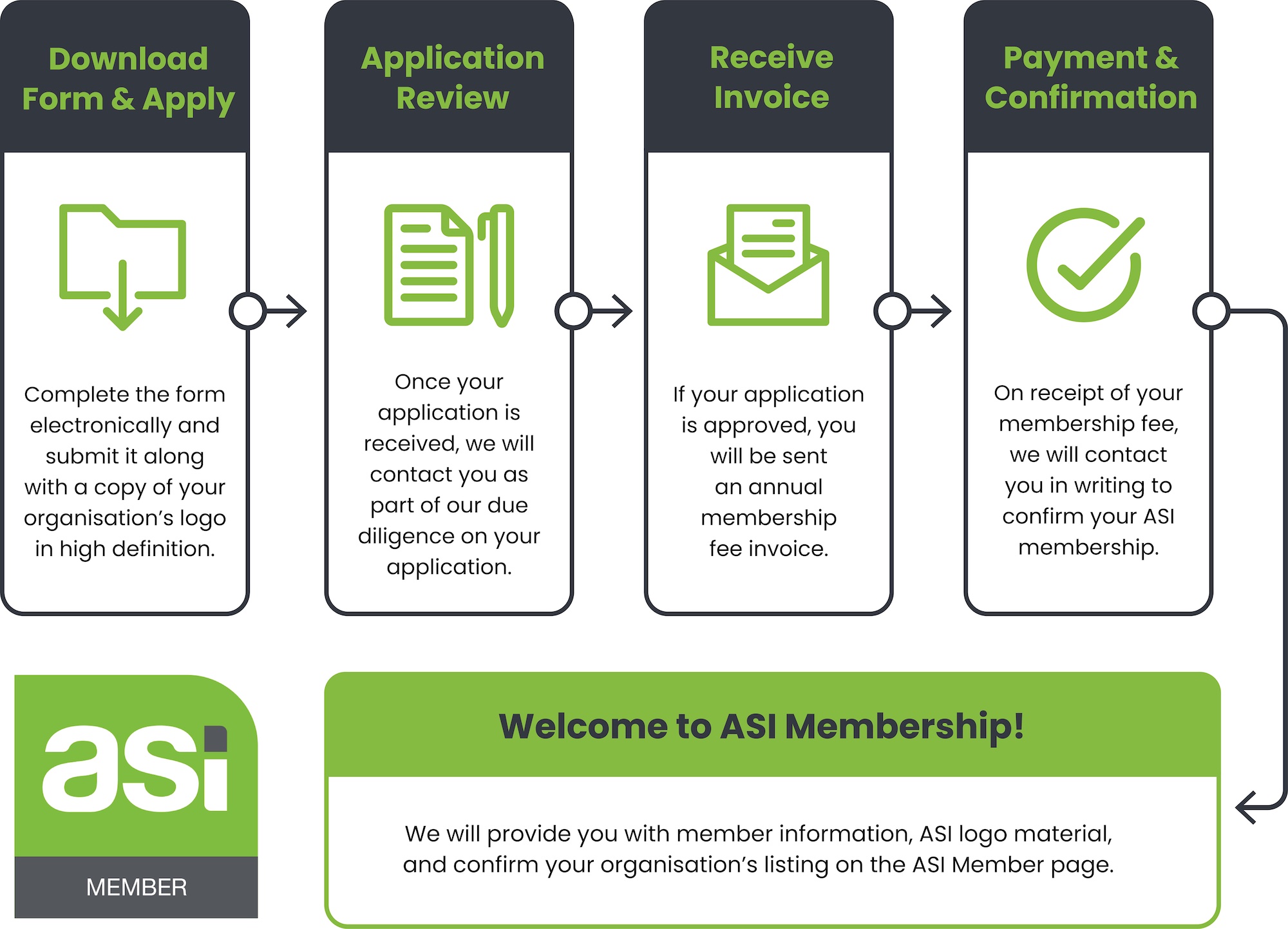 Annual Membership Fees
A key principle of ASI is to be inclusive, encouraging organisations of all types and sizes to contribute to the overall vision of maximising aluminium's contribution to a sustainable society. Membership fees are set by the ASI Board and reviewed annually. Current fee rates are tabled in the classifications below:
For organisations that are commercially active in the aluminium supply chain, ASI annual membership fees are determined by annual turnover/revenue for the financial year immediately preceding the date of the application or membership renewal date:
For Civil Society organisations and Associations, ASI annual membership fees are determined by size of the organisation in terms of number of full-time equivalent employees:
Note: Civil Society members who, at the time of application, will have a representative serving on the ASI Standards Committee, an ASI Working Group and/or in the Indigenous Peoples Advisory Forum have their annual membership fee waived pro-rata during that period of service, in recognition of the significant in-kind contribution made through this participation.
For General Supporters, ASI annual membership fees are determined by the annual turnover/revenue:
Certification commitment
'Production and Transformation' and 'Industrial Users' members commit to achieve certification against the ASI Performance Standard for at least one facility or product line within 2 years of joining ASI.
More information and useful links
SHARE THIS PAGE: