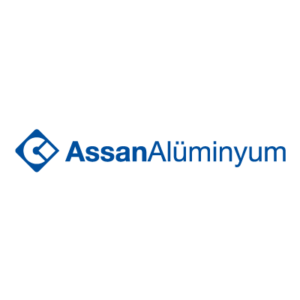 ASI MEMBER
Assan Alüminyum
MEMBER CLASS
Production and Transformation
JOIN DATE
October 2020
HEADQUARTER LOCATION
Turkey
About Assan Alüminyum
Assan Alüminyum, one of the world's leading manufacturer in the flat-rolled aluminum (FRP) industry, has been producing coil & sheet, foil and pre-painted aluminium products since its establishment in 1988, offering its products to a variety of sectors such as packaging, distribution, construction, consumer durables, automotive and HVAC. Assan Alüminyum, a subsidiary of Kibar Holding, has an installed annual capacity of 300 thousand tons in its production facilities located in Istanbul and Kocaeli – Turkey. The company is currently one of the 3 largest aluminum foil manufacturers in Europe, with an aluminium foil production capacity reaching up to 100 thousand tons.
Assan Alüminyum aims to Create the Future Together with its business partners. With its core values of reliability, flexibility and innovation, the company provides customized solutions for its customers. Assan Alüminyum's vision is based on creating long-term value by being more environmentally sustainable, in environmental, governance and social terms.
With its motto of "Creating the future without wasting it", Assan Alüminyum constantly strives to reduce its carbon footprint, through producing clean energy at its renewable energy power plant, recycling inner and outer scrap at its in-house recycling facility and developing new energy efficiency projects every year to reduce its energy consumption per ton of production. Assan Alüminyum, a global pioneer in the continuous casting technology, creates value by developing innovative, tailor-made solutions for its business partners at its officially registered R&D Center.
We are very pleased to be a part of the ASI community. At Assan Alüminyum, we adopt sustainability as one of our main values and business principles. We believe that our ASI membership will be an important step for us to show our commitment and to actively engage sustainability principles in our part of the aluminium value chain.

- Göksal GÜNGÖR, General Manager, Assan Alüminyum
Certifications
Performance Standard V2 (2017)
Certificate Number: 118 Rev.2
Certification Period: 02.02.2022 – 01.02.2025
Certification scope:
Tuzla and Dilovası production facilities located in Turkey
Audit scope supply chain activities:
Re-melting/Refining
Casthouses
Semi-Fabrication
Material Conversion
Additional Information
Activities in the aluminium value chain*
Aluminium re-melting, refining or recycling
Semi-fabrication (rolling, extrusion, casting)
* may contain both ASI-certified and non ASI-certified
Countries of operation
Other Production and Transformation Members
SHARE THIS PAGE: