ASI certifies Amcor operations against ASI Chain of Custody Standard
Amcor has achieved Chain of Custody Certification at operations in France, Germany and Switzerland: Amcor Flexibles Sarrebourg SAS, Amcor Flexible Packaging France SAS, in de Froges, Amcor Flexibles Teningen Tscheulin-Rothal GmbH, and Amcor Flexibles Rorschach AG. Amcor Flexibles Singen GmbH in Germany achieved CoC Certification in May 2019.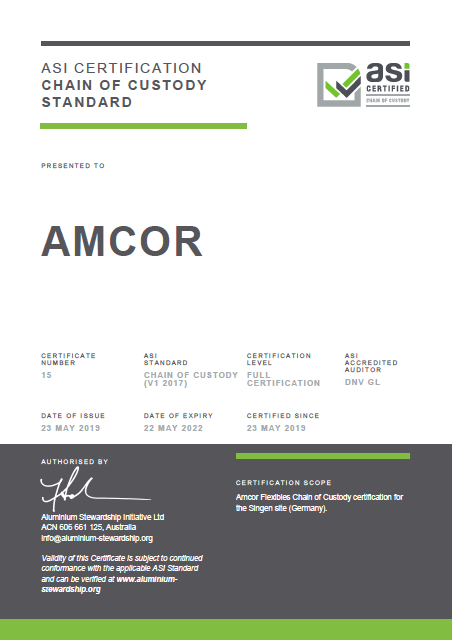 Aluminium Stewardship Initiative (ASI) today announced that four additional Amcor operations have been successfully certified against its Chain of Custody (CoC) Standard. Amcor uses aluminium in its packaging solutions for food, drink, and pharmaceuticals, as well as for foils used in electronics, transportation, construction and other industrial applications.
The ASI CoC Standard sets out requirements for the creation of a Chain of Custody for material that is produced and processed through the value chain into diverse downstream sectors. The implementation of ASI's CoC Standard links verified practices at successive steps of the supply chain – certified under the ASI Performance Standard – to the products produced by ASI Certified Entities. Amcor's CoC Certification enables the company to offer its customers products made with ASI certified aluminium and the option for on-pack ASI labelling.
The ASI Certification program was developed through an extensive multi-stakeholder consultation process and is the only comprehensive voluntary sustainability standard initiative for the aluminium value chain. The independent, third-party audits of the operations were carried out by DNV GL.
Fiona Solomon, Chief Executive Officer at ASI, said "With Amcor's expanded scope of their CoC Standard certifications, we have a global packaging company recognising the advantages of being able to offer its customers responsibly sourced aluminium in its products. The growing momentum we are seeing in the uptake of ASI Certification in the downstream part of the aluminium value chain, particularly for packaging, demonstrates that the demand for responsibly produced aluminium is there. We're grateful to Amcor for its ongoing support of our Standards program as one of the founders of ASI, and congratulate the company on the expansion of their certified operations."
Dr Gerald Rebitzer, Director Sustainability at Amcor Flexibles, said "Receiving this certification further recognises Amcor's commitment to responsible sourcing practices and selection of aluminium raw materials that minimise environmental impact. I would like to thank all the Amcor people involved in obtaining this certification and we are looking forward to strengthening the work with our own suppliers in order to create end-to-end responsible supply chains.
Consult the expanded scope Amcor summary audit report.