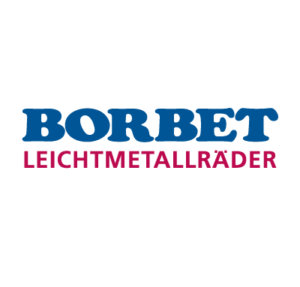 ASI MEMBER
BORBET Leichtmetallräder (BORBET Alloy wheels)
MEMBER CLASS
Industrial Users
JOIN DATE
January 2021
About BORBET Leichtmetallräder (BORBET Alloy wheels)
BORBET- Family business and tradition corporation is and lives both. The traditional corporation from the Sauerland region with roots right back to 1881 has since 1962 grown to be one of the worldwide leading manufacturers of light alloy wheels.
BORBET stands for high quality, innovative technologies and groundbreaking design – High class workmanship, making the light alloy wheel manufacturer to a partner in demand of the automobile industry and specialised aftermarket trade. BORBET accomplished its high profile in such a short period in 1987, with the legendary BORBET A deep lip design. The breakthrough in supplying the automotive industry came with the purchase of BORBET Austria in Ranshofen and the steady course of expansion ever since.
The success of the BORBET Group is due to a stiff upper lip – in values, that have accompanied the family business since the very beginning:
Quality, Innovation and flexibility in this case.
Modesty, reliability and fairness in handling.
The pretension on high quality products as well as first-class service features binds employees and concern.
A qualified and good functioning team and the ambitious engagement of each and every one is a guarantee for light alloy wheels of passion.
As one of the leading manufacturers of light alloy wheels, the BORBET Group is proud to join the Aluminium Stewardship Initiative and thus ensure more transparency and sustainability in the aluminium industry. Our goal is not only to make our own production more sustainable, but also to consider our entire value-added chain and work on continuous improvement. We can only look forward to a better future if everyone contributes to a more sustainable value chain.

- Margot Borbet
Certifications
Performance Standard V2 (2017)
Certificate Number: 169 Rev. 1
Certification Period: 17.12.2021 - 16.12.2024
Certification scope:
The manufacture of alloy wheels at BORBET Group facilities including Ranshofen (Austria); Bad Langensalza, Kodersdorf and Medebach, (Germany), Port Elizabeth (South Africa) as well as Corporate Headquarters at Hesborn, Germany.
Audit scope supply chain activities:
Material Conversion (Industrial users)
Additional Information
Activities in the aluminium value chain*
Aluminium re-melting, refining or recycling
Semi-fabrication (rolling, extrusion, casting)
Automotive - Product or component manufacturing (material conversion)
* may contain both ASI-certified and non ASI-certified
Countries of operation
Other Industrial Users Members
SHARE THIS PAGE: