ASI certifies UC RUSAL operations against ASI Performance Standard and Chain of Custody Standard
UC RUSAL has certified a bauxite mine, an alumina refinery and an aluminium smelting operation – including semi-fabrication activities – to the ASI Performance Standard and Chain of Custody Standard, effectively enabling the company to produce ASI Aluminium.
Aluminium Stewardship Initiative (ASI) today announced that UC RUSAL operations in Russia for bauxite mining, alumina refining and aluminium smelting have been successfully certified against its Performance Standard and Chain of Custody Standard. UC RUSAL is the world's largest producer of aluminium outside China. The company is involved in the mining and refining of bauxite into alumina; the smelting of primary aluminium from alumina; and the fabrication of aluminium and aluminium alloys into semi-fabricated and finished products.
The ASI CoC Standard sets out requirements for the creation of a Chain of Custody for material that is produced and processed through the value chain into diverse downstream sectors. The implementation of ASI's CoC Standard links verified practices at successive steps of the supply chain – certified under the ASI Performance Standard – to the products produced by ASI Certified Entities. UC RUSAL's CoC Certification includes bauxite mining through to casthouse operations, enabling the company to offer its customers ASI certified aluminium.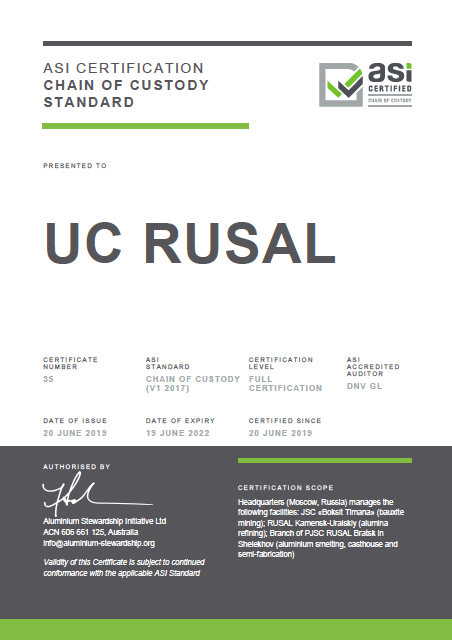 The ASI Certification program was developed through an extensive multi-stakeholder consultation process and is the only comprehensive voluntary sustainability standard initiative for the aluminium value chain. The independent, third-party audits of the operations were carried out by DNV GL.
Fiona Solomon, Chief Executive Officer at ASI said "ASI congratulates RUSAL on their dual Performance Standard and Chain of Custody Standard certification. Given the challenging environment in which the company has been operating until recently, its certification to both ASI Standards from bauxite mine through to casthouse and semi-fabrication is a significant achievement and a clear demonstration of the company's commitment to responsible operating practices."
Evgenii Nikitin, RUSAL's Chief Executive Officer, said: "Adhering to the key sustainability principles at every step of our operations is crucial for our relationship with employees, customers, communities and shareholders. We are delighted to have achieved this first certification. Receiving recognition from ASI, such a reputable organization, is an important milestone for RUSAL and further proves that we are committed to be a leading responsible aluminium producer".